The coronavirus pandemic presents different challenges in different countries, but it was never going to be easy in Indonesia, an archipelago of more than 500 islands and 274 million people. In August, Indonesia's average mortality rate for COVID-19 was 4.68%, down from 8.64% in April, whereas the global average was 3.79%.
But according to development workers, the fight against coronavirus is getting a boost from an unexpected source: climate preparedness.
Rapid Reaction on Lombok
Some 40% of Indonesians are already at risk from hazards such as floods, landslides, and droughts. Extraction of groundwater, coupled with rising sea levels, has threatened the capital, Jakarta, and communities on Java, the world's most populous island.
To the east, the island of Lombok has also seen flooding associated with climate change. Pendem, a village of 7,500 on Lombok, set up a community-based disaster management program (KMPB, kelompok masyarakat penanggulangan bencana in Indonesian) in 2018, for example. Because the KMPB was already in place, it was able to swing into action on 2 March, when Indonesia recorded its first coronavirus case. The KMPB in Pendem organized local residents in barring outsiders from hamlets, distributing COVID-19 information, preparing handwashing facilities, and observing quarantines for returnees.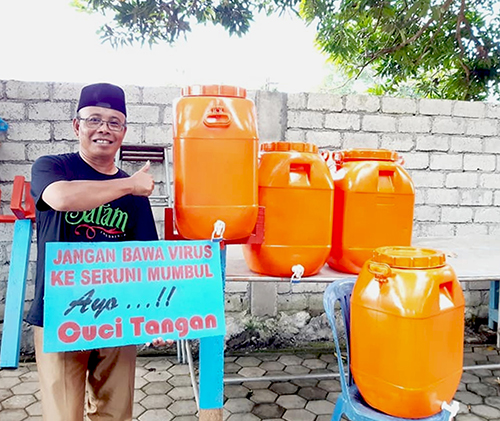 Those who self-isolated received daily health checks by KMPB members and did not break quarantine, according to World Neighbors, an Oklahoma-based nonprofit that helped establish KMPBs in 127 villages in Indonesia. Villages that were part of the disaster risk reduction program were able to mobilize a lot quicker than those that were not, said Edd Wright, Southeast Asia regional director for World Neighbors. Local officials had also established close connections with the federal government's disaster management agency and knew where to look for and how to access disaster funds.
World Neighbors doesn't yet have data to support a link between preparedness and pandemic outcomes—only the testimony of village leaders. Months into the pandemic, however, many of those leaders are working to establish data collection protocols.
"The key to a good disaster response is data collection—knowing what is needed," said Bapak Adi, an official with Lembaga Studi Pengkajian Lingkungan (Institute for Environmental Assessment Studies), a World Neighbors partner organization in Indonesia. "Part of our training focuses on postdisaster data collection. Our disaster management groups were at the forefront of surveying the needs of their communities during the early days of the pandemic and quickly contacting government and accessing available resources by providing good quality data, whereas villages outside our program area experienced many errors in data collection because they did not have trained personnel."
Resilience Lessons from COVID-19
The twin threats posed by the coronavirus and climate change have caught the popular imagination. In one editorial cartoon, COVID-19 is depicted as a tsunami threatening a city, but it's dwarfed by a second, labeled "recession," which in turn is dwarfed by a third, labeled "climate change."
But climate change is not a separate danger—it's part of the new threat environment. In sub-Saharan Africa, for instance, warming temperatures could favor the spread of dengue, chikungunya, and other viruses, according to a recent Lancet article. This confluence of emerging pandemics with atmospheric and ocean warming has stoked fears that chronically underfunded public health systems will not be able to cope. In May, more than 40 million health professionals wrote a letter to G20 leaders urging that climate action be part of the COVID-19 recovery.
"A warmer, less predictable climate means greater health risks for people," said Mary C. Sheehan, a faculty associate at Johns Hopkins Bloomberg School of Public Health. "For example, storm surges can lead to injury, and longer-term risk of depression and PTSD; extreme heat can increase risk of cardiovascular and kidney disease; smoke waves from wildfires put respiratory health at risk."
However, lessons from the COVID-19 pandemic that fall into five strategies—governance, information, services, determinants, and capacity—can be applied to climate change preparedness, Sheehan wrote in an International Journal of Health Services article authored with Mary A. Fox, an assistant professor at the school.
"We saw some of the failures in response to the pandemic reflective of weaknesses we may see in response to climate-related challenges," said Sheehan. "For example, lack of availability of personal protective equipment such as N95 masks translates from COVID-19 to wildfire-related smoke waves. We also saw in successful COVID-19 strategies some lessons for building public health capacity to meet climate challenges. For example, South Korea's strong public messaging on COVID-19 prevention or Singapore's strengthening of public health capacity to track and trace COVID-19 cases were both examples of how to bolster public health to respond to climate-related hazards."
—Tim Hornyak (@robotopia), Science Writer
Source link

#Climate #Preparedness #Mitigate #Emerging #Pandemics