Essential Info:
Price: $199.99/£174
Number of pieces: 1,135
Dimensions: 19.7 x 25.6 inches (50 x 65 cm)
Recommended age: 9+
In recent times, Lego rival Engino has expanded its extensive range of building products to create its heftiest of ranges – the Mega Builds line. Pivoted towards the more enthusiastic builder, the range offers four sets. These include a motorized London Eye, Eiffel Tower, dual-motor geared helicopter, and this one – the NASA Challenger Space Shuttle.
In all cases, the builds are aimed at STEM fans who like to build a combination of Lego-style components and bordering on Meccano-esque pieces, albeit without any need for additional tools. The end result? Something huge. There's no denying that the Engino Challenger Space Shuttle looks spectacular by the end and full of detail.
Getting there is trickier than one would expect, though. With the Engino Challenger Space Shuttle and other builds sticking with an app to simplify the process over a physical manual, there are certainly teething issues here, with both good and bad involved. It's also a sometimes fiddly build that takes a bit more practice than the best Lego sets that many of us are accustomed to.
However, it's also a highly enjoyable build if you take your time and don't get too stressed over certain sections. The Engino Challenger Space Shuttle ends up looking quite spectacular and is sure to spark the imagination of anyone excited by space travel.
Engino Challenger Space Shuttle review: Build
Some fiddly sections
Plenty of shades of gray
The Engino Challenger Space Shuttle is the kind of build that starts out a ton of fun and then steadily becomes more, well, challenging. Some of that is down to a common issue with any brick building endeavor – trying to decide what shade of a color something is. In the case of this build, gray is a dominant force. A list of components will highlight a number of shades of cream, light gray, and dark gray parts which at first glance can be tricky to divide up. This isn't helped by the fact that the Engino Challenger Space Shuttle doesn't separate its components by bag. While a Lego set may leave you lined up and ready to use numbered bags as needed according to the instructions, the Engino Challenger Space Shuttle lumps everything together. Sure, you have different bags but there's no order to them.
Instead, you're left opting to either pour all 1,135 pieces out at once (potentially in the very convenient plastic tub that the build arrives in) or identifying which bricks you need through the packaging. Neither is ideal and simply dividing up what you need takes a considerable amount of the 12-15 hours that this build is going to take you. It's also not much fun.
Once you get into the rhythm of it though, the Engino Challenger Space Shuttle is a mostly straightforward build. Occasionally, some blocks are tough to piece together, but it's not too obtuse. It makes logical sense, although at times you'll find slightly better methods than the app suggests for assembly. For instance, one part involved placing tires on wheels and the order we found made it easier than how the app suggested we do it.
You're heavily dependent on the app, with no paper manual to retreat to. On the one hand, the app is pretty detailed and laid out in sections so it's simple to figure out where you are without losing your place.
On the other hand, it's very sensitive and it moves around too easily. So, if you're trying to view the correct part on a particularly complicated bit, you can lose your way. The final part (H) being the worst offender for this, with it being incredibly difficult to differentiate between colors and what you're trying to achieve.
Unlike other builds too, the Engino Challenger Space Shuttle is all about assembling large sections before eventually piecing it together to create 'something.' That means the payoff comes at the end rather than slowly feeling like you're getting somewhere and seeing good results early on. If you're completing this as a family build, we can see kids wandering off while you're constructing struts and core parts of the integrity before returning to for 'good' bit.
Engino Challenger Space Shuttle review: Design
Very detailed
Bit unsteady
Engino's Challenger Space Shuttle model looks great. It's huge. Once finished, there's a massive sense of accomplishment because it truly is vast. With that comes a small price… it's also rather unsteady. Moving it around for the sake of good photography demonstrated just how wobbly it could be. With different struts for the rocket boosters, they would come away quite easily. Worse, near the end of the construction, the front fell apart and needed reassembly even though we didn't do anything to unsettle it.
This is far from a unique problem for a build this big, with other models likely to run into similar issues. It is a reminder that you need to plan ahead with where you decide to set up base for the space shuttle as the further you progress, the fiddlier it becomes.
Still, once constructed, the Engino Challenger Space Shuttle is tremendous. Architecture-wise, it all comes together perfectly to look intricate, robust (even though it potentially isn't in movement) and a great glimpse into how complex engineering projects can become.
Should you buy Engino Challenger Space Shuttle?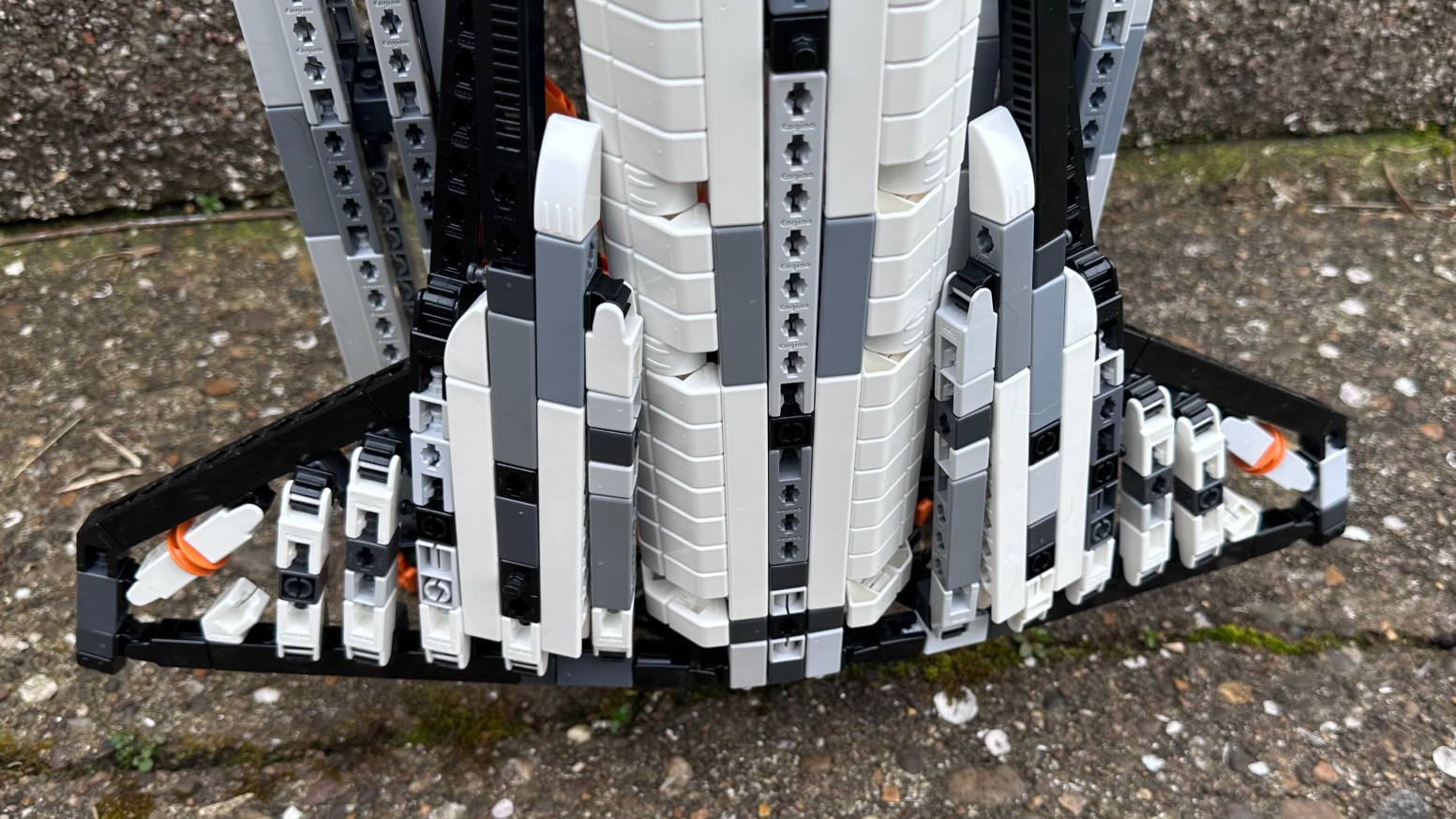 Aimed at 9+, the Engino Challenger Space Shuttle feels a bit ambitious for that age group. Parents will likely pick up a lot of the slack for all but the most patient of children. However, as a family project or for adults keen to assemble something a little different, the Engino Challenger Space Shuttle is a show-worthy set.
It's mostly very enjoyable to assemble, despite those app quibbles. It's only really the end sequence that becomes frustrating, but it's worth it when you're so close to the finish line. If you're a big space fan, you'll particularly appreciate this. However, anyone who fancies something different from the usual Lego way of doing things will like what's here.
Other sets to consider
Engino also offers the London Eye in this range with a motorized engine. It's pricier but it looks suitably captivating for fans of London tourist locations.
There's always Engino's Eiffel Tower too which is a little smaller than the Space Shuttle but still a complex architectural piece.
Alternatively, if you'd rather switch back to Lego, you could go for the Lego Icons NASA Space Shuttle Discovery, which you can pick up for around $200 on Amazon.
There is also Lego Architecture range with the Great Pyramid of Giza around this price and stunning to look at. Or those who enjoy all the clever mechanisms will like the Lego Technic All-Terrain Vehicle.