The way we do science is continually changing. Now there is greater collaboration across disciplines and expansion in open science approaches throughout the research lifecycle (see figure below). While some fields are benefitting from growth and change, others are slow-moving to capitalize on new opportunities.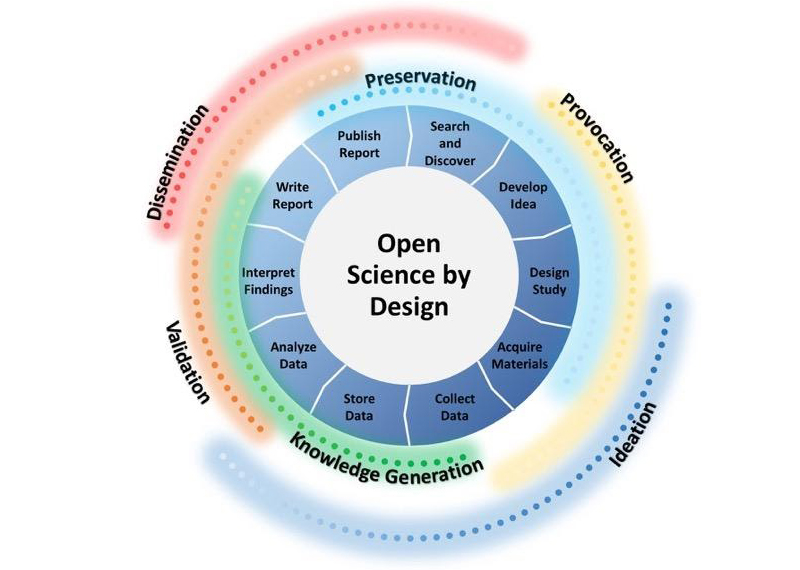 Geosciences encompasses a tremendous breadth of fields, and each discipline approaches its research differently. Some disciplines are strongly interconnected across researchers, methods, and instrumentation (e.g., seismology). Others succeed through more independent or specialized research programs that may focus on a single data type or field site. Applying diverse and complementary scientific approaches forms the landscape of scientific discovery we have today. However, not all geoscience disciplines have had the same opportunities to develop research approaches that enhance cross-site synthesis, cross-disciplinary integration, and/or standardized sharing of information and data.
One approach to doing science that is intentionally focused on synthesis and collaboration was coined ICON science or ICON-FAIR in a 2019 U.S. Department of Energy (DOE) Biological and Environmental Research (BER) workshop report. ICON refers to science that:
Integrates processes across traditional disciplines (i.e., physical, chemical, and biological) and across spatial and/or temporal scales;
Coordinates use of consistent protocols across systems to generate data that is interoperable across systems and researchers, often with a focus on data types needed to inform, develop, and improve models;
Openly exchanges data, software, and models throughout the research lifecycle that are findable, accessible, interoperable, and reusable (FAIR) such that all researchers are enabled to contribute and leverage resources; and
Networks efforts, whereby data generation and/or sample collection are done with and for the scientific community, creating research that is mutually beneficial while providing resources (e.g., data, models, sensors) to contributors that otherwise would be difficult or impossible for them to access.
The goal of ICON science is to enhance synthesis, increase resource efficiency, and create knowledge that transcends individual systems.
The WHONDRS consortium (see figure below) is a river corridor ICON use case. Pursuing ICON science is not an all-or-nothing endeavor and elements of ICON are used across all of geosciences. There is, however, significant variation in the degree to which and how ICON principles are implemented. For some geoscience disciplines, ICON principles have been implemented for decades, even if they don't use the ICON terminology. Other disciplines are trying to find ways to implement ICON principles. In turn, there is an opportunity to grow as a geoscience community by sharing our collective experiences, perspectives, guidance, and lessons learned on how to implement ICON principles.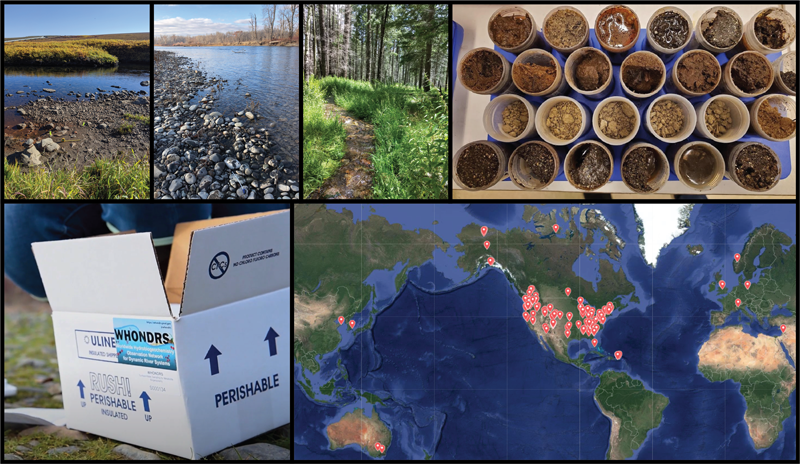 To capitalize on this opportunity, researchers across all the geosciences are invited to contribute to a special collection hosted by the AGU open access journal, Earth and Space Science. ICON science comes in many forms, and the collection is meant to reflect that breadth. The collection will be a resource derived from diverse voices from which researchers can learn how different disciplines have (or have not) engaged with ICON science. The goal is for researchers to use the knowledge and lessons contained in the collection to find creative ways to implement ICON science that are applicable and make sense for their own disciplines.
The special collection itself aims to be an example of ICON principles in action. It will integrate knowledge across geoscience disciplines through coordinated writing teams operating openly with a network of contributors for mutual benefit of all. Each contribution will be written through collaborative open writing teams and will (1) describe opportunities and challenges of applying ICON science within and across disciplines; (2) demonstrate applications and efficacy of successful tools and methods; (3) elucidate gaps among disciplines in their opportunity and motivation to implement ICON science; and (4) identify opportunities for cross-discipline collaboration, thus reducing the activation energy of applying ICON principles.
The collection, titled "The Power of Many: Opportunities and Challenges of Integrated, Coordinated, Open, and Networked (ICON) Science to Advance Geosciences" will consist of commentary articles representing different geoscience disciplines, with the aim of encompassing all 25 AGU sections.
A primary goal of the ICON special collection is to provide a venue for a diverse set of voices that have different experiences, opportunities, and challenges. How individuals implement ICON principles into their research will vary depending on these factors and intentionally building diverse author teams, will mitigate bias.
We encourage geoscientists of all levels (undergraduates through senior scientists) and all countries to be involved in this project. We would like to specifically welcome contributions from communities historically underrepresented in science, including women, BIPOC, people with diverse abilities, and LGBTQ+ scientists. The only limitation on involvement is that collaborators must fall within the categories of AGU's science.
Writing teams will be finalized by February 2020. Learn more about the approach to the special collection, sign up to get involved, reach out with questions to and please spread the word.
—Amy E. Goldman ([email protected];

 0000-0003-0490-6451), Pacific Northwest National Laboratory; Sujata R. Emani (

 0000-0003-1118-8689), USDA Agricultural Research Service; Lina C. Pérez-Angel (

 0000-0002-2920-7967), University of Colorado Boulder; Josué A. Rodríguez-Ramos (

0000-0002-2049-2765), Colorado State University; James C. Stegen (

 0000-0001-9135-7424), Pacific Northwest National Laboratory; and Peter Fox, Editor in Chief, Earth and Space Science
Source link

#Special #Collection #Open #Collaboration #Geosciences