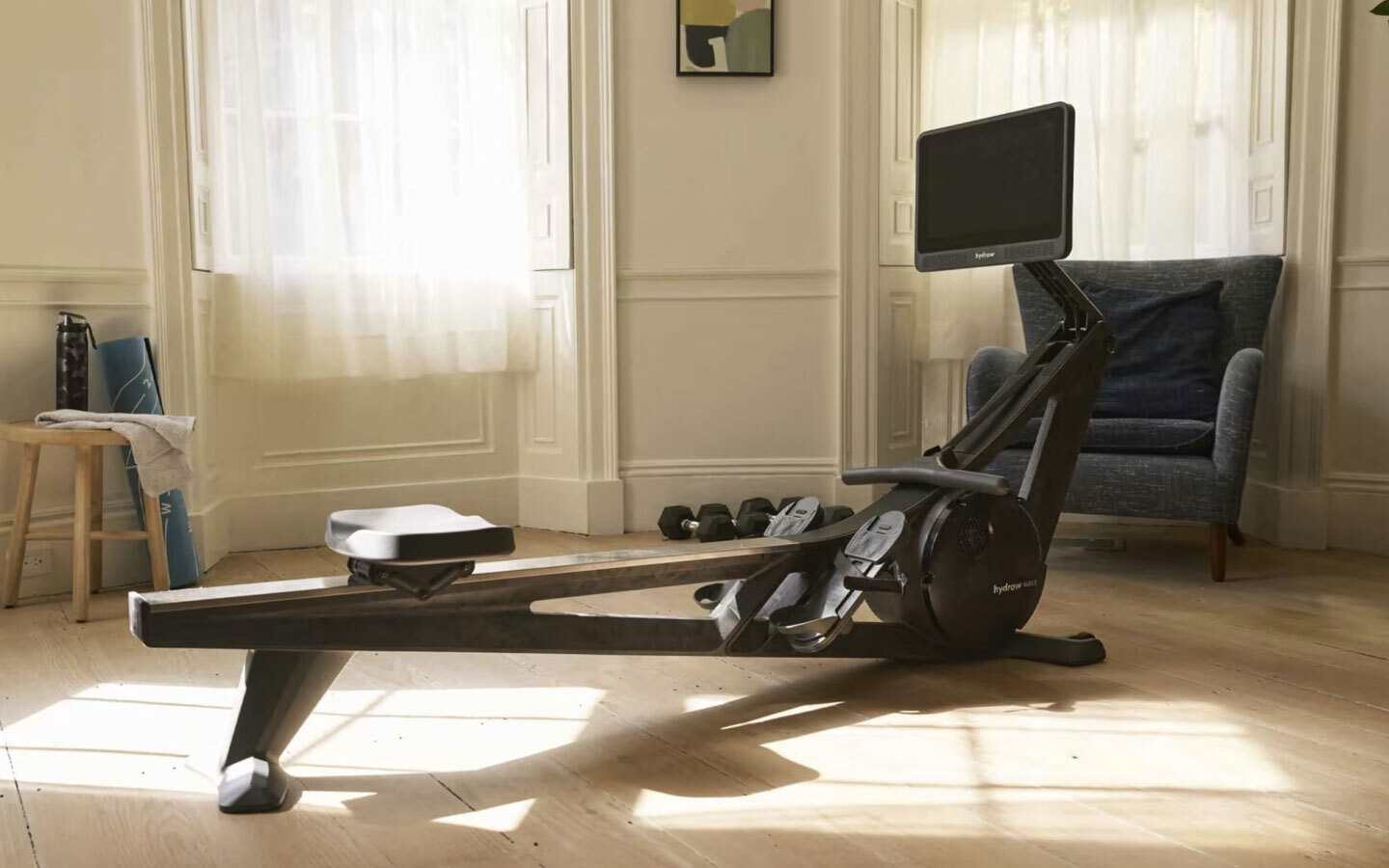 The Hydrow Wave is one of our favorite rowing machines. The sleek, streamlined rower has a built-in display for virtual workouts and session stats and is whisper-quiet, so you won't disturb others at home. If you're looking to take up home rowing, now is a great time to get started as the Hydrow Wave is currently on sale at its lowest-ever price, saving you an impressive $450 right now at Amazon. 
As we found in our Hydrow Wave review, the machine is an excellent option for beginners, as the streamed live and on-demand workouts offer a great range of introductory classes and programs to help you practice your technique. But the reason we think it's one of the best rowing machines you can buy for home workouts is the software-driven electromagnetic resistance. 
The default resistance setting is 104, which Hydrow says most closely reflects water-based rowing, although you can adjust this using the touchscreen display up to 300. If you're tight on floor space, you can't fold the Hydrow Wave, however it is designed for upright storage, so you can lean it up against a wall when not in use. 
Overview:  The Hydrow Wave is a well-designed smart rowing machine with an integrated display to join on-demand and live workouts from the comfort of your home. You need a membership to join the classes, but that'll give you access to Hydrow's vast library alongside beginner-friendly guides to improving your form. 
Product launched: August 2022
Price history: This is the best deal we've seen for the Hydrow Wave. Hydrow's own store has it on sale for $1,695, but this Amazon deal saves you an extra $250. 
Price comparison: Amazon: $1,445 | Hydrow: $1,695 | Best Buy: $1,695 (out of stock)
Reviews consensus: The Hydrow Wave is an excellent way to boost your fitness, develop core strength, and practice your technique at home. The machine is smaller (and cheaper) than the company's first model — the Hydrow — but has all the same beginner-friendly features, with a quiet electromagnetic resistance system, enjoyable video workouts, and expert-led tutorials. 
Live Science:  ★★★★½ | Fit&Well ★★★★★ | T3: ★★★★★
Key features:
Resistance: Software-driven electromagnetic resistance
Display: 16-inch HD touchscreen
Dimensions: 203 x 48 x 109 cm / 80 x 19 x 43 inches
Foldable: No
Heart rate monitor: No, but can be connected to some wearables, including Garmin heart rate chest straps
Software: Hydrow platform on the integrated touchscreen and the Hydrow app is available for your smartphone or tablet
Buy it if: Peloton led the way in connected home workouts, but Hydrow perfected it for rowing machines. The Wave is easy to use and maintain and the class instructors give clear guidance and help motivate you to get the most from your workout. The quiet resistance system also makes it an ideal option if you don't want to disturb others in your household or live in an apartment. 
Don't buy it if: Since you can't fold the Hydrow Wave, it's not an ideal option if you're short on space. Although you can store it upright, you need to buy an additional wall bracket to do this safely. You also need to commit to the cost of a Hydrow membership ($44/month) to get the most from the machine. There is a Just Row mode, but even Hydrow suggests that a traditional rowing machine will do you better if you don't want to take out a membership.