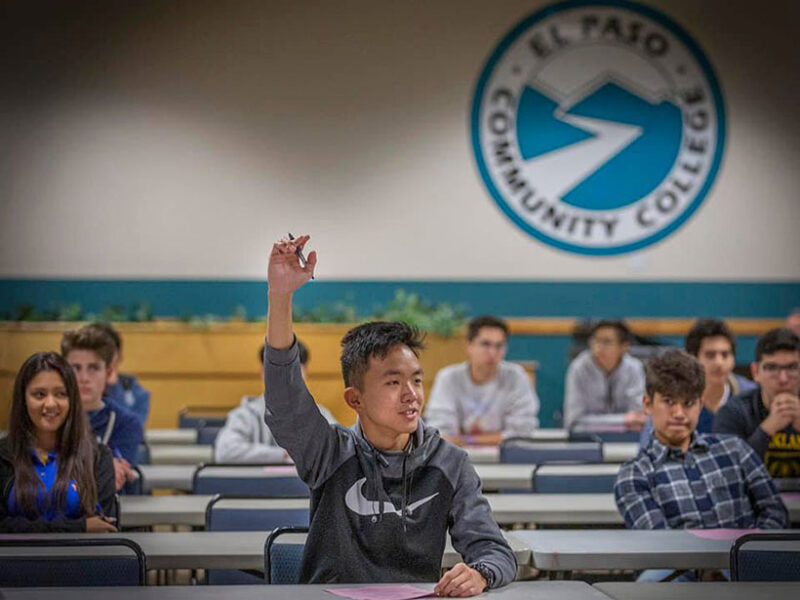 Reimagining the Geosciences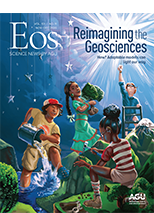 • An Unfought Geoscience Battle in U.S. Prisons

• The Two-Year On-Ramp

• Ten Steps to Protect BIPOC Scholars in the Field

• Reframing the Language of Retreat

• Accessibility and Fieldwork

• Mentorship During a Pandemic

• The Challenges of Fieldwork for LGBTQ+ Geoscientists

• Perspectives on Parenting While Researching

• Students Learn New Skills with Scientist-in-Training Programs

• Shaping the Future of Science
Marissa E. Cameron was always fascinated by science and dreamed of becoming an astronaut, but after her first year studying at the University of Texas at El Paso, nothing felt right. She left school to try the workforce for a few years, landing in a job in retail.
"There were people that told me that I made a big mistake," Cameron said.
Now Cameron works as a planetary scientist at NASA's Jet Propulsion Laboratory, performing landing site reconnaissance for future mission concepts for Jupiter's moon Europa. What made the difference? Community college.
The geosciences recruit far fewer community college students into 4-year degrees than other science, technology, engineering, and math (STEM) fields. But some schools are changing that.
El Paso Community College (EPCC) is one such school and has emerged as a model for other 2-year institutions looking to recruit and prepare the next generation of geoscientists. At its peak 2 years ago, the El Paso program produced 8% of geoscience associate's degrees awarded annually nationwide. Cameron credits her time at EPCC with her career success.
One of the champions of the program is Joshua Villalobos, a dean of instructional programs and the campus dean of EPCC's Mission del Paso campus. Villalobos grew up in El Paso and attended both EPCC and the University of Texas at El Paso (UTEP). When Villalobos first joined the EPCC faculty, the geology program was defunct because of a lack of students.
Villalobos knew that students wanted a chance to be geoscientists. They simply needed a path. Only a few community colleges have dedicated geoscience majors, according to the American Geosciences Institute's (AGI) 2018 workforce report—yet students have a growing interest in the discipline, and the workforce needs new personnel. By 2026, AGI estimates a surplus of 118,000 geoscience jobs due to retirements.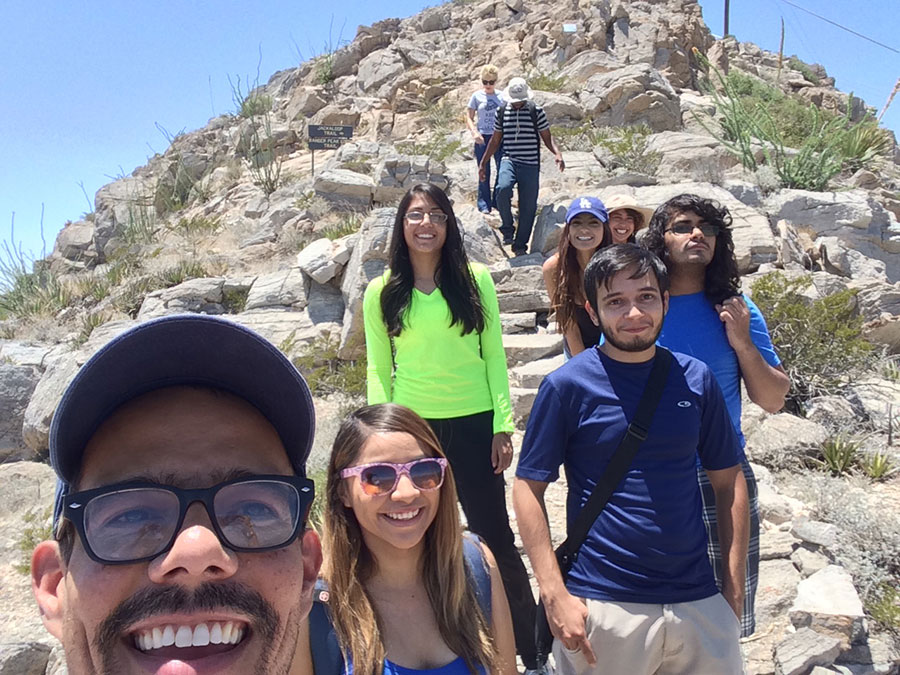 EPCC geology professor Joshua Villalobos (bottom left) and students explore paleo-karsts on a sunny day in the Franklin Mountains. Credit: Joshua Villalobos
Villalobos also realized that community college students could be a critical population to recruit into the geosciences, particularly given that the discipline is the least racially and ethnically diverse STEM field. Hispanic, Black, and Native American students are overrepresented at community colleges compared with 4-year institutions.
"As the United States' population begins to change, we need to have a geoscience community that's reflective of that population," said Villalobos.
Villalobos, along with a team of faculty, deans, and advisers, built a new pipeline for community college students in El Paso. Could their model be a template for others?
Getting a (Booted) Foot in the Door
Cameron took her first geology class with Villalobos on a whim to fulfill her general science requirement. She'd started taking early-morning and night classes at EPCC while working full-time and wasn't sure what she wanted to do but knew that she needed a change.
She had always liked the Earth and space sciences: Her father took her rock collecting as a child and would set up a telescope to peer at the stars. But she didn't know what career options, if any, existed in the discipline. She'd never met a geologist.
In each lecture, Villalobos dedicated the final slide to career spotlights.Often, learning about careers takes place outside of the classroom, which can leave students with a hazy picture of their future careers. To counter that, Villalobos dedicated the final slide of each lecture in his introductory geology class to career spotlights. Lectures on mineralogy ended with information on mineralogists, sediment lectures concluded with sedimentologists, and so on. Students were even tested on scientific career paths. Learning about professions "really opened up the possibility" that geoscience could be a real career, said Cameron.
Villalobos also disseminated career and salary information to student advisers and displayed it prominently at the top of the school's online degree plan.
Advice on careers in physical sciences can be key to students' desire to earn a baccalaureate. In a survey of 708 community college geoscience students in the Journal of Geoscience Education, career discussions with students positively correlated with higher intent to transfer to a 4-year school in the geosciences.
EPCC geology major Joshua Peterson studies his Brunton compass for a strike and dip meas-urement in the Franklin Mountains, Texas. Credit: Joshua Villalobos
In addition to a lack of career information, Villalobos said that community college students can face another hurdle: cultural perceptions of a "successful" career.
"For most minority families, if you have the opportunity to send one of your children to college, you're going to want them to be a doctor or a lawyer, things that are within the cultural mental framework of what success is," Villalobos said. Three in 10 community college students are the first in their families to pursue higher education.
Parents of students started showing up at Villalobos's office asking if their child could even get a job in geology.Language can be another barrier and can lead to misconceptions about geoscience. Researchers use the term fieldwork to describe research conducted in an outdoor environment, for instance, but in Hispanic cultures, "the term 'doing fieldwork' means that you are…getting a job literally in the field, like picking crops or digging ditches," Villalobos said.
The majority of students at EPCC and UTEP are Hispanic, and the campus Villalobos calls home is in an agricultural area. Parents of students started showing up at Villalobos's office asking whether their child could even get a job in geology. And why were their children working in the field?
Villalobos quelled parents' fears by listening to their concerns and explaining that studying the geosciences does lead to career opportunities. When doing outdoor work, Villalobos requires that students "dress like a scientist," with a notebook, hiking boots, and protective clothing.
"That proper gear is like your uniform," Villalobos said. "It's your symbol of being a geologist."
Pointing the Arrow
At community colleges, students can fall prey to "cafeteria-style learning," said Nikki Edgecombe, a senior research scholar at the Community College Research Center at Teachers College, Columbia University.
Students take a random mix of classes that don't necessarily lead to a degree, often basing their decisions on peers or scheduling, as opposed to the end result of graduation.
EPCC's program uses a different approach: The college offers a degree plan with seven geology and environmental courses and labs, as well as freshman- and sophomore-level math and science classes. This guided pathway harnesses students' excitement after their first geology class into a focused track and lets them save money if they want to transfer to a 4-year institution.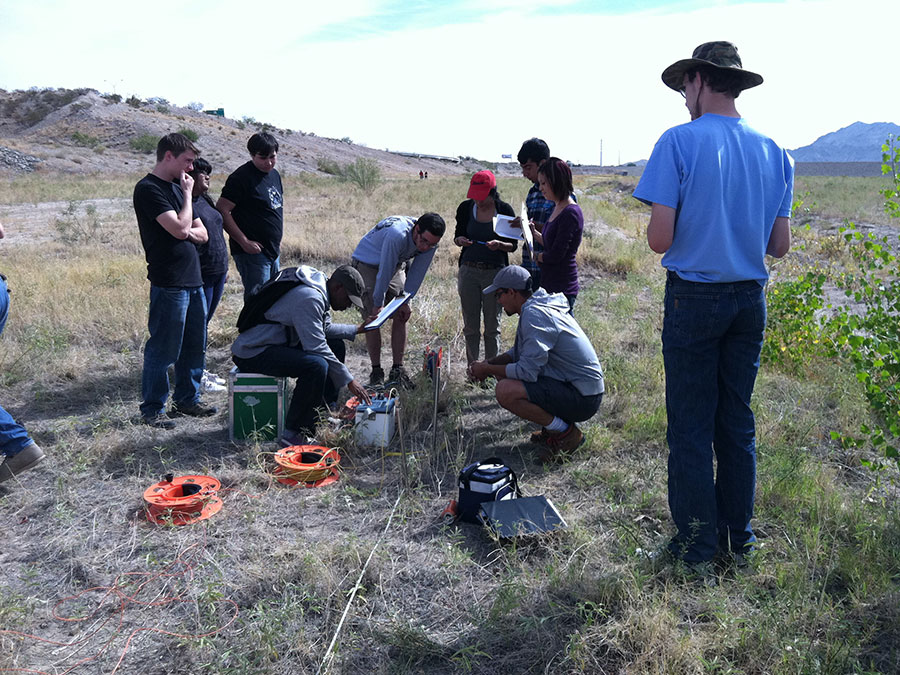 Geology and geophysics students from El Paso Community College (EPCC) gather around a ground-penetrating radar to survey a dried reservoir in El Paso, Texas. Credit: Joshua Villa-lobos
Villalobos knew that coursework was only the first step, however, and that a vital part of learning happened in the laboratory. Villalobos recalls washing beakers as an undergraduate in a geochemistry lab at UTEP and how much of a joy it was. Overhearing conversations between professors and graduate students introduced Villalobos to a new language and scientific world. Even though the work was menial to start, soon Villalobos was learning to operate scientific instruments and flying to Stanford University to run high-powered equipment.
The experience "cemented my desire to be a geologist," said Villalobos, and there was no reason EPCC students shouldn't have that chance too.
"High-impact learning experiences" can have a powerful effect on students, but community colleges generally don't have the resources to supply them. Grants are scarce, and faculty are up to their eyeballs teaching classes, sometimes six per semester.
The students enthusiastically trudged through the wetland each week.Villalobos knew it was time to ask for help. The first step was applying for out-of-state funding from the University of Arizona for $2,000–$3,000 grants to increase the number of minoritized students in STEM. Villalobos used the money to pay two students to study a nearby wetland using simple field kits. The students enthusiastically trudged through the wetland each week, taking soil and water samples, and developed a hypothesis that the wetlands are partly fed by previously unidentified springs.
Using the small grants as a proof of concept, Villalobos secured a $200,000 grant from the National Science Foundation to build a research program. In the Student Opportunities for Learning Advanced Research in the Geosciences (SOLARIS) program, EPCC students completed one- or two-semester research projects, sometimes at the college and other times at UTEP. During the heyday of SOLARIS in 2017, EPCC had 70 students in its geology major, a large number even compared with 4-year institutions.
The connection between EPCC and UTEP turned out to be key. After the start of Villalobos's pilot research programs in 2008, enrollment in UTEP's geology degree program quadrupled over 7 years, and the number in the environmental science degree program nearly doubled as EPCC students transferred to UTEP.
Building the Bridge
As an EPCC student, Cameron wanted to transfer to UTEP but wasn't sure she could afford it. She would be the first in her family to get a bachelor's degree.
She'd done everything right: finished her geology classes, completed research, and checked off her prerequisites. But when she thought about the higher tuition cost, "I was like, man, I got all this way, and I'm not going to be able to continue on."
The average annual 4-year public in-state college tuition was nearly 3 times as expensive as that of community college in 2019. And the cost is going up: Between 2008 and 2018, the price for undergraduate education rose 31%.
Fortunately, UTEP had a program called Pathways that paid undergraduates to conduct research. The money would just barely cover tuition. Because Cameron had already done research at UTEP through SOLARIS, she decided to take the leap into a bachelor's program.
Other than navigating costs, community college students eyeing a bachelor's degree must transfer their credits.
Students lose an estimated 43% of their credits when they transfer.Transferring credit in the U.S. education system can be a headache. The Government Accountability Office investigated college transferring in 2017 and concluded that the process is a mess. Between 2004 and 2009, students lost an estimated 43% of their credits when they transferred, the report found, which wasted students' money, time, and financial aid.
Part of the issue is that schools fail to disclose transfer agreements, called articulation agreements, online. The Department of Education does not require them to do so. Some schools don't have articulation agreements at all.
EPCC and UTEP have such an agreement. The geoscience associate's degree at EPCC counts directly for 2 years at UTEP. This two-plus-two program makes a bachelor's degree that much faster and cheaper, said Villalobos.
Even better, by working together proactively, road bumps can be avoided.
For example, transfer students could lose a whole year if they start at UTEP without having taken chemistry. Geoscience students must enroll in a course that requires chemistry (mineralogy) in the fall of their junior year, and spring classes build on that knowledge. Therefore, EPCC students must take chemistry before transferring. To avoid pitfalls, advisers from both schools meet to coordinate their curricula, and they give each other a heads-up when changes occur, said UTEP geology professor Diane Doser.
One Model Among Many
The success at El Paso inspired faculty at Texas A&M University to invest in their own program for transfer students.
Texas A&M increased admissions of transfer community college students by 107% in the first year.About 5 years ago, the university eased its coursework requirements for transfer students. The changes increased admissions of community college transfer students to Texas A&M by 107% in the first year. "We saw that we were missing a large demographic," said former Texas A&M associate dean Chris Houser.
But there is no one-size-fits-all approach.
For one, El Paso is a bit of an anomaly. It's isolated from the rest of the state's education system in an "education desert," with EPCC and UTEP being the only public institutions of higher education in that corner of the state. By contrast, there are 32 community colleges near Texas A&M.
But the issue wasn't insurmountable: Texas A&M accepts introductory courses from surrounding community colleges without an articulation agreement, said Texas A&M dean Christian Brannstrom. Instead, the university offers a handout with recommended courses that community college students can take over a 2-year span to prepare them for university. The sheet declares "your degree at A&M starts at your community college." This year the incoming class has 40% community college students, said Brannstrom.
Still, could this approach work outside of Texas? There are three big challenges.
For one, Texas is a minority-majority state, and both EPCC and UTEP are Hispanic-serving institutions; the majority of El Paso's population is Hispanic or Latino. As research has shown, equitable and inclusive workplaces require more than simply increasing the representation of racially minoritized groups. People working in predominantly non-Hispanic white institutions must actively change the culture in those spaces to be inclusive and equitable.
Second, Texas has streamlined the transfer process by regulating which courses can be offered by community colleges. That isn't the case nationwide; some states allow community colleges to set their own course offerings.
"A lot of people just want to jump right in and solve it within a semester or two. That's just not going to happen."Community college faculty member Eric Baer said that he would love to re-create the El Paso model, but his home institution of Highline College near Seattle exists in a completely different educational ecosystem, with unique course offerings and countless 4-year options nearby. He said that while standardizing course offerings makes for a clearer path, educators risk creating cookie-cutter students.
Third, the El Paso model relied heavily on one-time grants. The SOLARIS program that led Cameron into space science is no longer around, although spinoffs are. "We're trying to be as creative as possible," said Doser, because "you don't always get funding to do the same thing over and over again."
"We're continuously searching for support," she added.
That doesn't mean that change is impossible. It takes time, said Villalobos. "A lot of people just want to jump right in and solve it within a semester or two. That's just not going to happen."
Start by understanding your students and your institution, learn how to collect data, and identify your community partners, Villalobos advised. "Once you get a grasp on all of those, then you can start laying down the groundwork for something truly spectacular."
For Cameron, the bridge from EPCC and UTEP came at exactly the right time. After dropping out of premed, she wasn't sure what she'd do. Now she dreams up space mission concepts for a faraway icy world. "Even now, thinking back on it, Joshua [Villalobos] and EPCC were the things that really set that path in motion."
Community college also taught her that a second chance is always possible. "It doesn't matter what's happened to you," Cameron said. "If you want to make things happen now, you still can."
—Jenessa Duncombe (@jrdscience), Staff Writer
Source link

#TwoYear #OnRamp